How it all began:

This is a brief explanation to let you know how Enydan Great danes came about.
My name is Alison Fisher-Matthews and we are located in Ridgeville South Carolina USA.
I have been breeding and showing my danes since 1993 , most all of them I have handled myself to their various titles and championships.
I am a member of the Great Dane Club of America & Great Dane Club of North Central Florida.
Board member of Charleston Kennel club & Charleston Chinese Shar-pei club of south Carolina.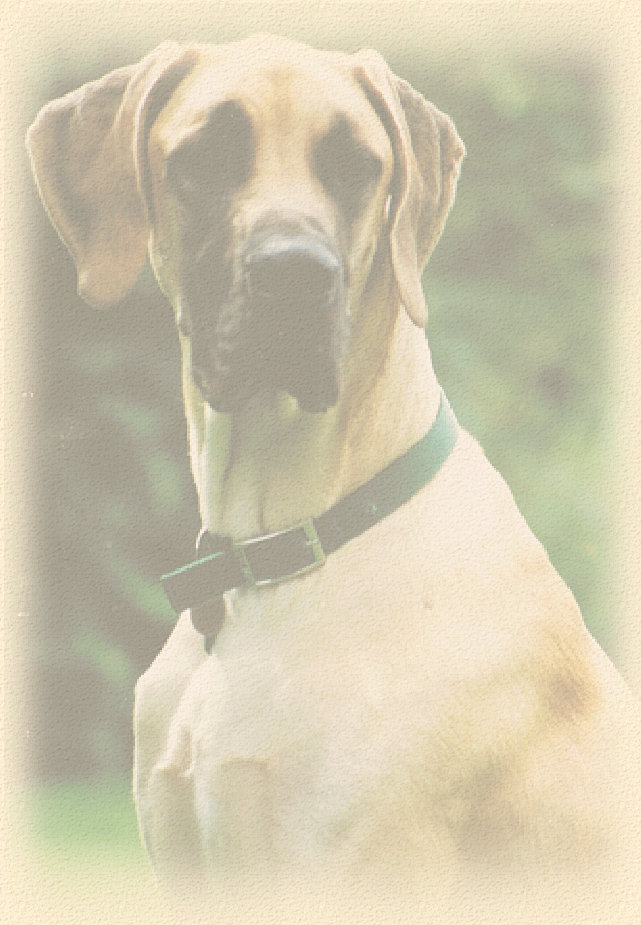 In the beginning:

There was "Endroma Roman Tenor at Enydan" (Roman) who was my heart and soul. I was given Roman as a gift from Rae & Peter Russell of the Endroma Kennel, I was not aware at the time how important these two people or this breed was going to be in my life.
Soon to follow was "Dinahtron Born Free of Enydan"(Jasmin),with her came another very important mentor and great friend Maria McGuinness.
If only I had realized how lucky I was to have my first two danes both perfect pets and show dogs. Sadly I lost Roman in a tragic accident when he was six but he will be the heart of Enydan forever,
I then got "Endroma Sweet Promise for Enydan"(Tia) a beautiful fawn girl.
Jasmin went on to make me proud, she had numerous wins, Best Puppy, and Best of Breed awards. The ultimate being when she gained her British Stud Book # in Limit Bitch at Crufts in 1999.
In the same year I mated her to "Endroma Young Pretender" a dog I had admired for many years, this was to prove very successful. From this we not only produced Marcus but Zelda too.
In the summer of 2001 very exciting changes happened for the Enydan gang when we moved from the UK to the USA to be with my husband Darrel, Jasmin, Tia & Zelda made the move with us.
This was a move filled with joy(in the birth of our two sons (Russell & Alexander)
heartache& sadness(with the death of family, friends & Jasmin) and a few minor setbacks.
We took a break from showing and breeding for a while but,
Thanks to the love, support and encouragement of my husband , friends & family, combined with my passion for this awesome breed the Enydan gang is back showing, breeding and proving to be just as successful here in our new home.

Sadly due to the death of Peter in December 2001 both myself and many others lost a dear friend but his
contribution to the dane world will live on forever.
.Always missed, but never forgotten.


The rest of this page is dedicated to the ones I owe it all to , without them my love and dedication to this breed would never have been. Without them there would not be any Enydan Great Danes.
Without them I would not have had the heartbreak of losing them, but then I would have missed out on so much love and pride and wonderful memories that i will never regret , will always remember and be forever thankful for the wonderful years we had.

ROMAN , JASMIN , MARCUS & ZELDA. The heart of Enydan first & forever.